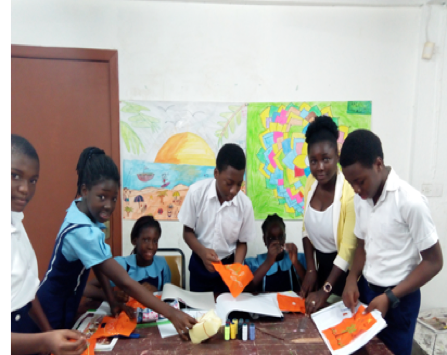 Williams and Brew School offers diverse range of activities in creating visual, auditory or performing artwork. Our art programme gives Students the opportunity to express their imaginative or technical skills as well as appreciate their beauty and emotional power
Our art programme has been designed to
Promote confidence in our Students.
Encourage students to express what they feel and not what they think others expect to see.
Travel on journeys of visual thoughts that challenge their comfort zone.
Provide stimulating ideas that encompass shades of design, tonal values, positive and negative, perspective, attitude, and the unconventional view.
The aspects include;
Painting
Prints
Drawings
Craft
Design
Performance art
Mixed media
Sculpture
Visual Arts
Our Students are taken through Drawing, Sculpture, Printmaking, Design and Craft activities each Trimester. There is an opportunity for Students to explore other forms of Visual Art such as Decorative Art. This programme has been designed purely for aesthetic reasons.
Performing Arts
Our Performance Arts involve Music. The School has a Music Room where Students learn to play musical instruments, study musical theories and also compose their own music. Our Drama lessons give Students the opportunity to act out stories in front of an audience during lessons and School Programmes. There are Dance lessons that help Students to express nonverbal communication. Our Students are thought various dances of different cultures around the world.
Our ten famous quotes
'Every artist was first an amateur' –Ralph Waldo Emerson
'Creativity takes courage'- Henri Mantisse
'Every child is an artist. The problem is how to remain an artist once you grow up.' –Pablo Picasso
'You don't take a photograph, you make it'- Ansel Adams
'Art enables us to find ourselves and lose ourselves at the same time'- Thomas Merton
'We don't make mistakes, just happy little accidents'-Bob Ross
'A picture is a poem without words'-Horace
'The principles of true art is not to portray, but to evoke'- Jerzy Kosinski
'Painting is easy when you don't know how, but very difficult when you do'- Edgar Degas
'As my artist's statement explains, my work is utterly incomprehensible and is therefore full of deep significance.' – Calvin.
By Art Teacher: Vivian Boakye